What A Blizzard and A Galaxy Cluster Have In Common
February 8, 2013
With the northeastern portion of the US bracing for a blizzard today, we will be hearing a lot about what causes these major storms. In a nutshell, blizzards occur when a warm front collides with a cold front, creating an area of low pressure where winds spiral toward the center.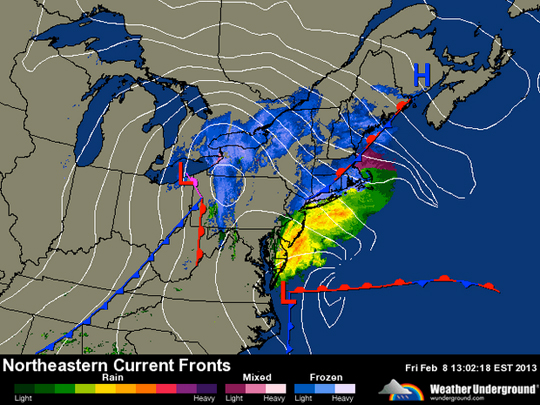 Image Credit: www.noaa.gov


---
Farewell Hawley, Pennsylvania
February 7, 2013
The Hawley Public Library in Hawley, Pennsylvania said goodbye to the Here, There & Everywhere (HTE) exhibit earlier this month. It departed for the Prince George's County Memorial Library System, Hyattsville, MD for the remainder of February. Hawley Librarian Jean Kammer sent in some photos of two special events that were hosted in Pennsylvania before the exhibit left. One busy event included bringing the large posters and activities to a local after school YMCA program on Tuesday January 22nd. You can see the kids working with the HTE activities.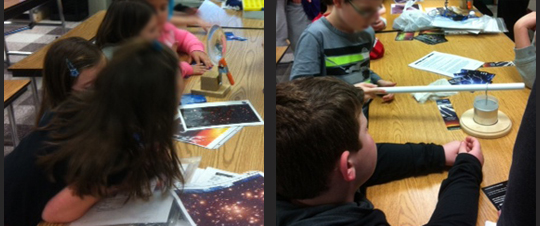 The second event included the local middle school and a visit with HTE.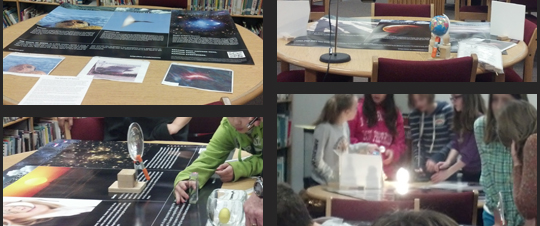 ---
Quarterback Throws and a Pulsar Goes
January 30, 2013
Whether you are a football fan or not, you probably know that this Sunday is the Superbowl. In addition to all of the commercial watching and snack eating, we also find Superbowl Sunday to be a good excuse to mull over the science behind the game.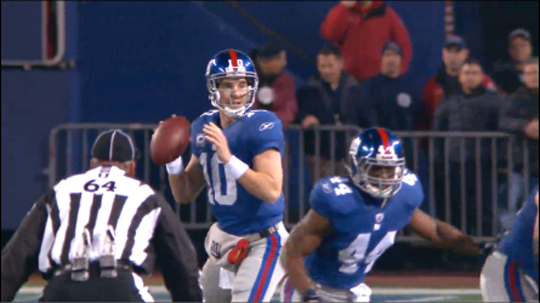 Image Credit: http://www.nbclearn.com/


For example, let's think about the passes that will be thrown from each of the quarterbacks. It's not easy to connect with receivers during a football game – and not just because there are 300-pound linemen trying to get to the quarterback. It's also complicated because of the physics behind the throw. A few years ago, NBC put together a series of videos on the science of football. Luckily, they are still available.
---
Science in a Champagne Flute
January 10, 2013

With the recent change of the calendar at New Year's, we wanted to touch on an important aspect of the holiday: bubbles. Whether you like your bubbles in Champagne, beer, sparkling cider or something else, the passing of one year into the next is often noted with something yummy to drink containing bubbles.
Alan Boyle, who writes the Cosmic Log on NBCNews.com, recently had a post on the science of bubbles just in time for New Year's Eve.
---
HTE in Minnesota for December
December 18, 2012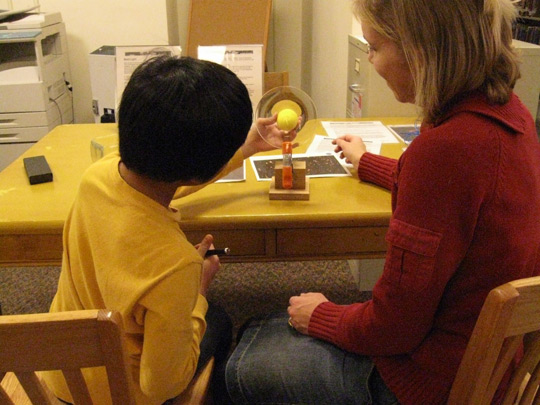 Diane Adams, Director of the International Falls Public Library in Minnesota, sent in a few photos of the Here, There & Everywhere exhibit currently in residence at her library for the month of December. She writes that she doesn't believe the photos are great but that "everytime I try and take photos I get asked questions and have decided they are more important than documenting people going through the exhibit." We couldn't agree more! And we are happy to see such fun photos of all the kids experiencing HTE.
---
Shadows at Work: The Solar Eclipse of 2012
December 11, 2012
Were you one of the lucky ones to see last month's solar eclipse? The path of "totality" (that is, where the Sun appears completely blocked by the Moon as seen from Earth) went through the northern tip of Australia and across the South Pacific.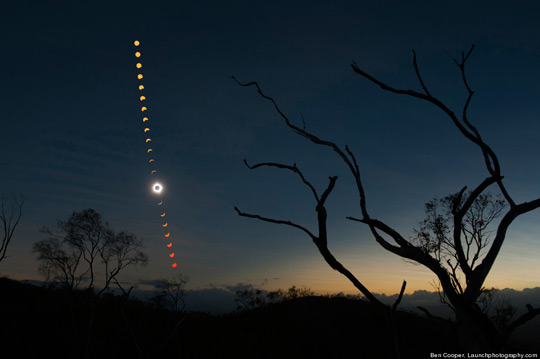 Image Credit: Ben Cooper, launchphotography.com


---
Hanging with HTE in Virginia
November 14, 2012
The Here, There, & Everywhere (HTE) exhibit is currently set up between two science buildings, Reed Hall and Curie Hall, at Radford Univerisity (RU) in Virginia. Organizer Rhett Herman, director of the Radford University Planetarium writes: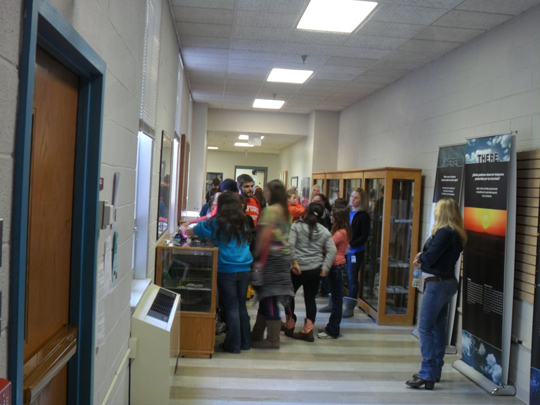 Image Credit: Radford U.


This photo is from a group of 120 6th graders and their teachers from a nearby middle school. They were here for a Science Day (http://www.radford.edu/sciencedays/) but they got more than they bargained for when they scheduled that Science Day over a year ago. We had the HTE activities set up on tables and display cases in the hallway, just across from the exhibit. RU physics students were on deck with the hands on activities and we all had a blast. The visiting group hit the display in groups of about 24.
---
HTE visits Christiansburg Library in Virginia
November 7, 2012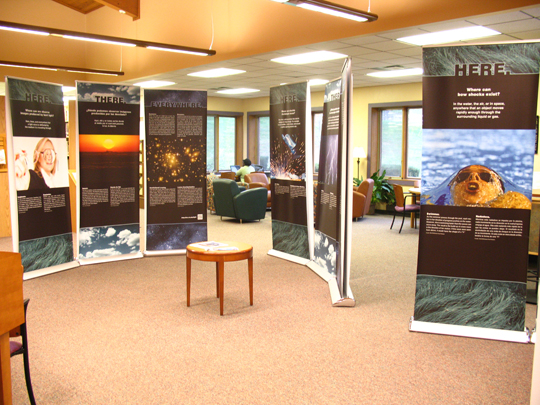 Here, There & Everywhere traveled to Virginia last week for a stop at Christiansburg Library (on display through November 9th). It will continue on to Radford University in Virginia for display November 10-30 at the Radford science center. Pamela Hale, who coordinated the exhibit at her library, wrote:
---
Hurricane Sandy From an HTE Perspective
October 29, 2012
This week, Hurricane Sandy is bearing down on the East Coast of the US. Most of us are concerned with the experience of a hurricane from below – and for good reason. But putting on our HTE (Here, There & Everywhere) hats, we like to consider the spiral shape of a hurricane when seen from above.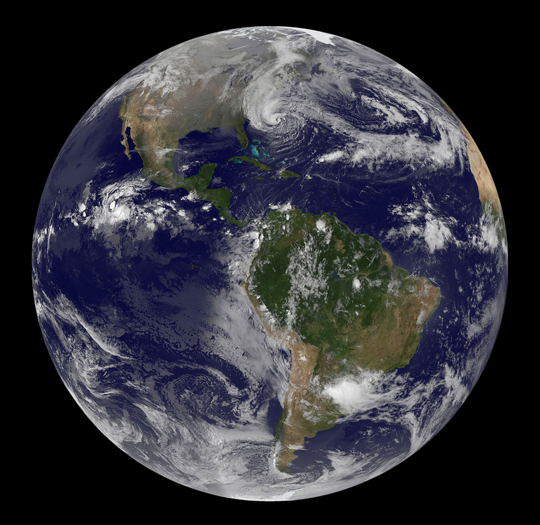 Image Credit: NASA GOES Project


Let's think of two other spiral-shaped objects on very different scales: water going down a drain and a spiral galaxy. The common thread for all three of these is angular momentum, a physical principle that remains constant with time for a spinning object and applies over all scales.
---
HTE Visits the Ecotarium
October 19, 2012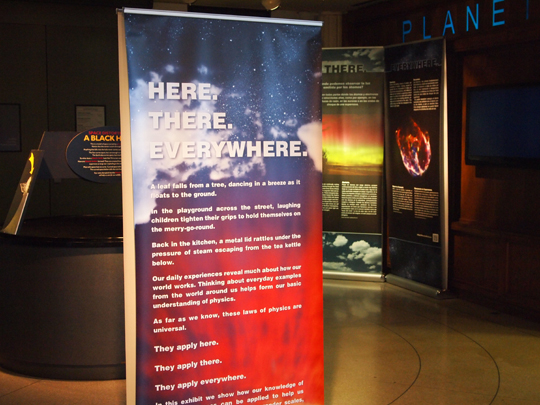 The Here, There, and Everywhere (HTE) exhibit moved to the Ecotarium in Worcester, Mass., for the month of October. The Ecotarium is a unique "indoor-outdoor" non-profit science center founded originally in 1825 as the Worcester Lyceum of Natural History. New to the HTE exhibit this month was the addition of some hands-on activities produced to help facilitate participant exploration of the multi-disciplinary content.
---
HTE Moves into Memphis
September 13, 2012
At the beginning of September the exhibit Here, There, and Everywhere landed in Memphis starting a more than 2 year tour across the US. The exhibit is being hosted at the Goodwyn Gallery of the Memphis Public Library until September 30th. The timing is perfect as students begin the new school year. They can visit the gallery to learn about all types of physical phenomenon and how it relates to our everyday lives on Earth, but also at larger, universal scales.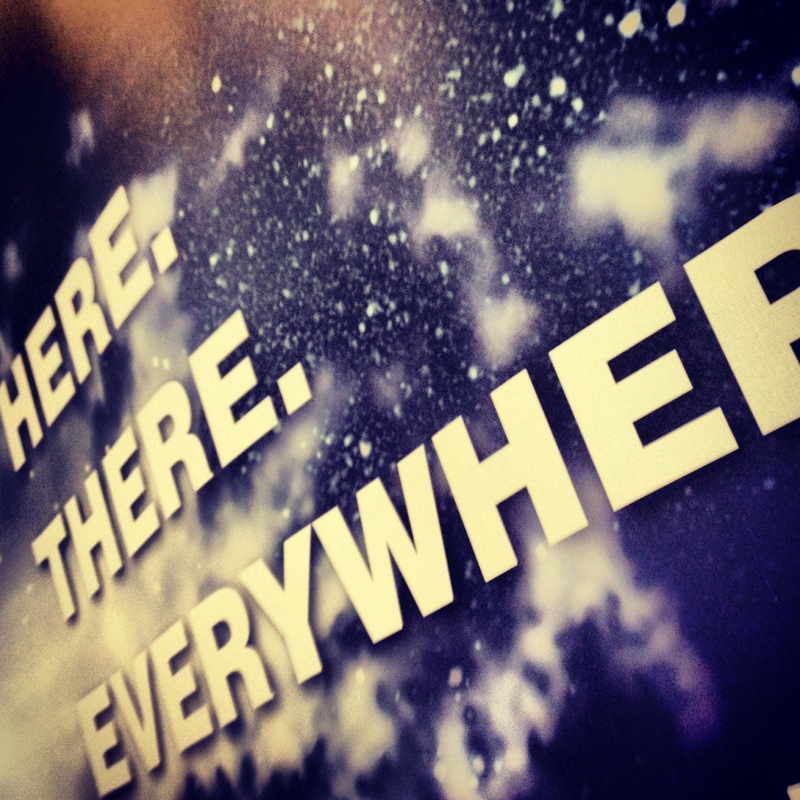 ---
HTE MAKES ITS DEBUT
August 27, 2012
Today marks the launch of a new project—both physically and virtually. We are so happy to announce that "Here, There, and Everywhere" (known by the acronym of HTE) has officially debuted. You may have heard this question, or asked it yourself: why bother studying things that are millions or billions of miles away in space? HTE, among other things, is a project that addresses that question.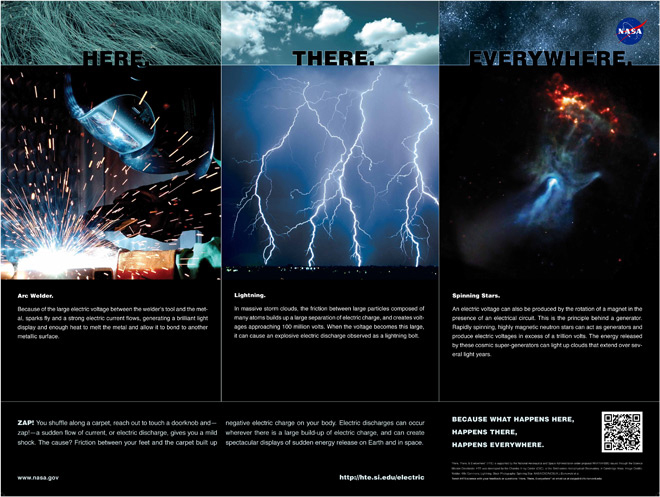 ---