September 11, 2013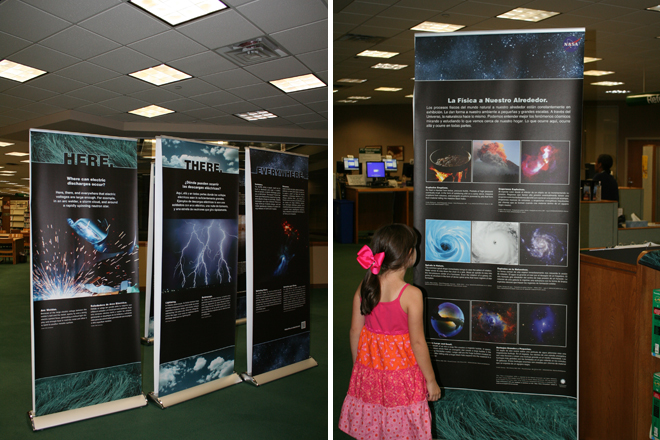 Here, There and Everywhere (HTE) was recently displayed between August 1 and 28 at the Irving Central Library in Texas. Visitors learned how everyday experiences on Earth and across the universe are connected by the laws of physics. In conjunction with the exhibit, the Irving Central Library planned a robust series of programs for the month of August to help ignite students' interests in science, technology, engineering and mathematics (STEM) — just in time for the new school year.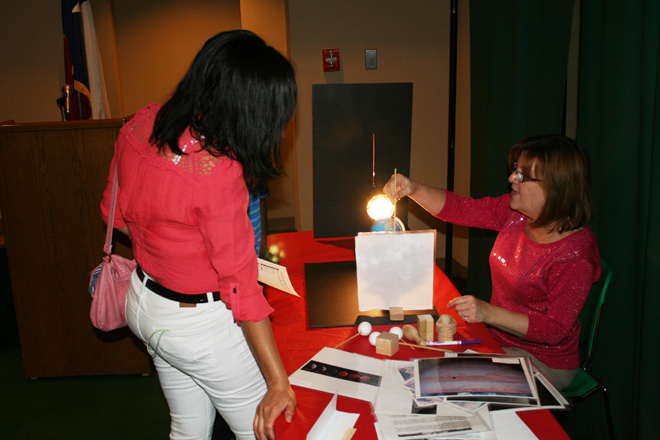 The Hands on Science event was on August 22. 43 people showed up to this family event. We demonstrated the "physics concepts" seen on the HTE panels, using all the tools given to us by Chandra. At the entrance, a patron was given a map showing all the "physics" tables. Patrons moved from table to table learning about shadow, bent light, atomic light, speed, wind & electricity. Once they learned the concept, then their map was stamped. After completing all 6 tables & getting all 6 stamps, then a prize was given. The HTE videos ran in the background, so families could sit & watch to learn more.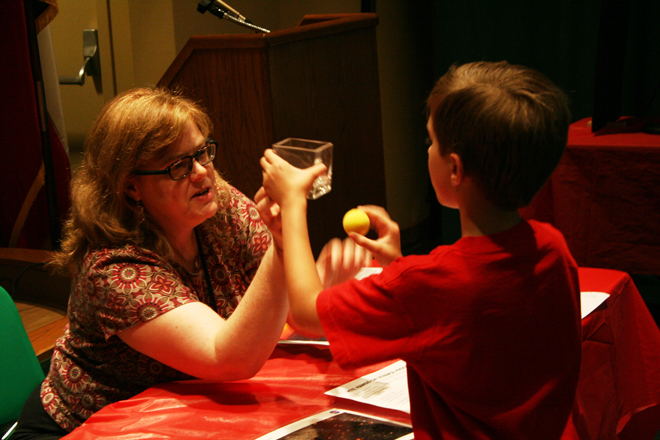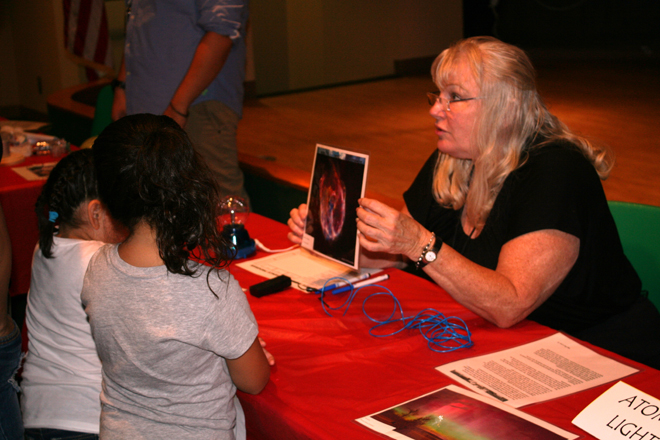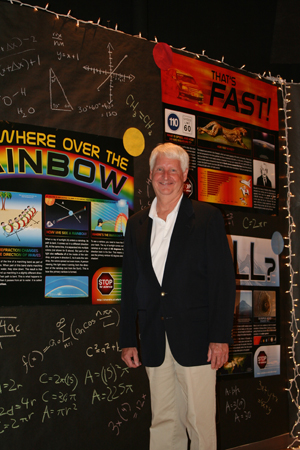 On August 13, Irving Public Library and The University of Kansas co-hosted the KU Alumni Association presentation and the Astronaut visit. Dr. Steven Hawley, a former NASA Astronaut, a KU Alumni, and a current professor of Physics and Astronomy filled the auditorium with 110 patrons eager to hear him talk about his experiences. His presentation included details about his five space shuttle missions, and the launch and repair of Hubble Space Telescope.
On August 16, the Irving Public Library partnered with Lockheed Martin's, Grand Prairie, Texas -- HOLA organization to demonstrate different ways of making paper airplanes. 106 kids finished their airplane project and competed for goody bag prizes. We had happy 1st, 2nd and 3rd place winners.
On Aug 10, Mad Science presented their chemistry show at the Irving Public Library, West Branch. 77 patrons enjoyed the spin, pop and boom of the chemical reactions.
On August 24, The Ft. Worth Museum of Science & History presented Take Me to the Stars. This mobile planetarium show designed for ages 6 & up, lasting 45 minutes. 54 children learned about stars, constellations, and visible planets.
Additionally, several NASA items were loaned to Irving Public Library during the HTE exhibit. These items from Cross Plains were housed on the first floor in the display cases. The tire from the STS-40 shuttle mission was a popular item.
More at: http://cityofirving.org/news/current/0813herethereeverywhere.asp
and
http://yourirving.dallasnews.com/2013/07/30/nasa-exhibit-and-stem-programs-come-to-library/
Watch a video about the HTE exhibit displayed at the Irving Central Library:
-Lourdes McWithey,
Programming Librarian, Irving Public Library